MediaStation is a comprehensive content acquisition and preparation solution for linear sources. At its core, MediaStation's intuitive ingest tools make it easy to record, segment, review and accept content. The device control module allows operators to control all source and record machines from one console to help reduce error and save time. What's more, Media Station provides a frame-accurate non-destructive segmenting tool that allows operators to easily create mark points and insert metadata.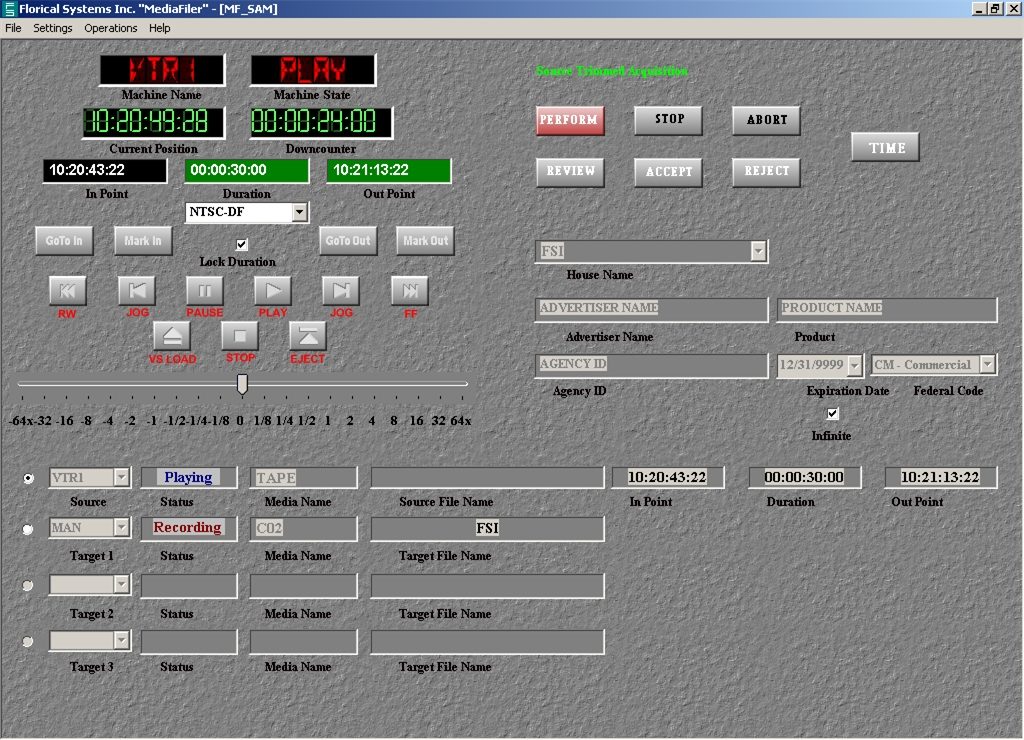 MediaFiler
MediaFiler is the easiest asset acquisition software in the industry. Your traffic system or our dublist processor can be used to create a drop-down list of "to be dubbed" material. ShowTimer, PathFire and/or Pitchblue interfaces add a "need to review" list in the MediaFiler drop-down list. The operator simply selects the house-name and up to three simultaneous destinations (1 primary and 2 backup source) then MediaFiler populates all known metadata automatically. This minimizes data entry errors and can eliminate the printed "check-off sheet". Source control can be accomplished directly from the software with simple keyboard and mouse clicks or through an optional hands-on Shuttle-Jog Controller.
Features
Use house Traffic system to populate a drop-down dub "to-do" list.
Interfaces with ShowTimer, PathFire, and FlipFactory to populate "to-do" list for must-review-before-air material.
Ingest in 3 steps: Record, Review & Accept.
Access Traffic Dub List information with an integrated media database to reduce data entry.
Easily enter & review metadata including House Name, Media Name, Advertiser Name, Product, Agency ID, Expiration Date, & Federal Code.
Review and Approve: Automatically review recorded material on any target storage device for accuracy. Simultaneously record & review material on the target.
Quickly verify that the first frame (SOM) is captured on each target copy
Control: control all source & record machines from one console.
Use the optional multimedia controller with jog/shuttle knob & buttons for improved productivity & enhanced control.
Automatically connect source & target machines with optional source router control.
Automatically switch the video monitor source with the optional monitor router control.
Improve Quality: Get frame accurate transfers automatically.
Easily mark in-mark outsource or target material with frame-by-frame review.
Start high & low resolution encodes within the same TV frame for accurate time code in the original & proxy material.
MediaFiler Features
MediaTimer
MediaTimer is a non-destructive media prep solution that creates and records segment times for program material stored on video servers. A drop-down list of house-numbers can be populated from traffic or through other ingest processes such as ShowTimer, MediaFiler and our PathFire/PitchBlue interface. All relevant metadata entered through the ingest process (from traffic, MediaFiler, ShowTimer, etc.) will be displayed in MediaTimer as well. Operators simply select the exact in and out points of each program segment, then MediaTimer automatically creates sequenced house numbers from the primary file and stores the information in the database.
Features
Access program metadata with the Florical media database to reduce data entry.
Accurately mark in-mark out each segment with frame-by-frame review.
Easily enter & review metadata including House Name, Media Name, Program Name, Episode Number and Agency ID.
Automatically increment segment numbers as each segment is timed.
Reference the total program air time which is continuously calculated by MediaTimer.
Use actual segment times to automatically update presentation schedules in AirBoss & AirBoss Editor.
Reduce data entry error by directly reading machine time code & storing the results in the Media Database for each program segment.
Efficiently segment material on video servers.
Access separate databases used in ShareCasting & multi-channel operations.
Use the optional multimedia controller with jog/shuttle knob & buttons for improved productivity & enhanced control.
Control all source machines from one console.
MediaTimer Features
Scale with products that fit your needs
Stations can add products to create an end-to-end master control automation solution and scale their operation
Automated acquisition solution for file-based syndicated programming and commercial content.
Ingest at one facility and push content, timing and metadata to regional sites automatically based on spoke site dub-lists.
NewsRecorder
Record and time newscasts and other live programming for immediate use.