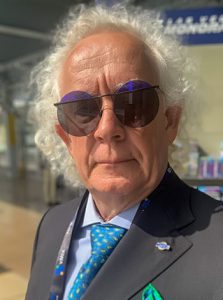 Dr. Eric Piard
VP Research & Development
Dr. Eric Piard has been the Vice President of Research and Development
for Florical Systems worldwide since 2006. He originally joined the software development team at Florical in 1996, He holds a Master in Physics, a Masters in Mathematics, and a Masters in Applied Mathematics from the University of Paris VII in Paris France. He has a Masters in Physics from Columbia University, New York City, and a Ph.D. in Physics from the University of Florida. Eric is responsible for the strategic vision and planning of product development He stays on top
of the latest trend in IT and Media related technologies and participates in the SMPTE, ATSC, and SCTE standards communities.
"Eric Piard, Ph.D., is one of the most versatile individuals that a person can meet. A thinker. A philosopher. A brilliant software architect. He is the repository of Florical's tribal knowledge and has been the conduit for making dreams and ideas a reality. He has been with the company for over 20 years and has earned a reputation as a thought leader in the industry. I am honored to have such a highly qualified person on our team.'
Shawn Maynard, Florical's SVP/ General Manager.